Question:
I heard from a volunteer that when they begin registering for an event, it gives them a list of other volunteers to choose from in the Volunteer Portal, why is that happening?
Answer:
When a volunteer is registering for an event, they will see other volunteers listed under "Step 1: Select a Volunteer or Group Below" if their profile is linked to another volunteer. CERVIS automatically links volunteer profiles that share a phone number or email address. This functionality allows family members to be linked in the system by using a common "family" phone number or email address.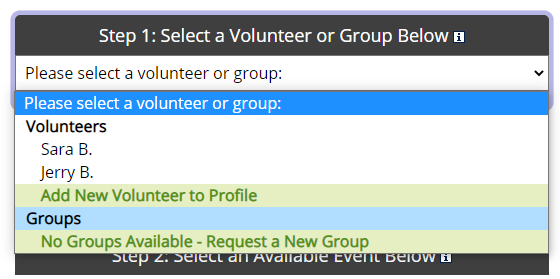 If the accounts share a phone number (either Primary or Alternate), they can register the other person for events at the same time as they are registering themselves. If they share an email address, in addition to registering one another for events, they can also view and edit the profile information for the other volunteer(s).
You can view the volunteer(s) to whom a volunteer is linked by clicking the "View Profile Details" icon (
), from the Volunteer Management Dashboard. Scroll down, click "Show More", then continue scrolling to the bottom of the pop up window to see the list of profile matches.

If you are entering volunteers on the administrative side of CERVIS, each volunteer profile should have a unique email address and phone number in order to ensure that volunteer profiles are not inadvertently linked. Email address is not a required field on the administrative side, so if a volunteer does not have an email, you can create a profile for them, but please note that they will not be able to login to their profile or register for events on their own because email address is used as username in CERVIS. Additionally, you can include placeholder phone numbers for volunteers who do not provide one, but they must be unique such as 719-000-0001, 719-000-0002, 719-000-0003, etc.