As of September 26, 2018, analytics are recorded for every email that is sent through CERVIS. This can be a mass email or a message to just one person. CERVIS now tracks the number of recipients that open your messages, click on the link(s) included in your email, click to download an attachment, unsubscribe, and the number of delivery failures you have for each message.
You can view the analytics for each email anywhere that you can view previously sent emails in your system, but the easiest place to view recent messages is in your System Log.
Follow the steps below to locate the analytics for your recently sent* emails:
Login to your CERVIS account.
Click on "View System Log" under the "System Management" heading on the Main Dashboard.
Search for a particular email by keyword in the search bar, or for all emails by clicking the radio button next to "Show Sent E-mail Messages" under Advanced Options.
Click on the view email message icon () for the email in question and you will see the analytics near the top of the page as seen in the sample below.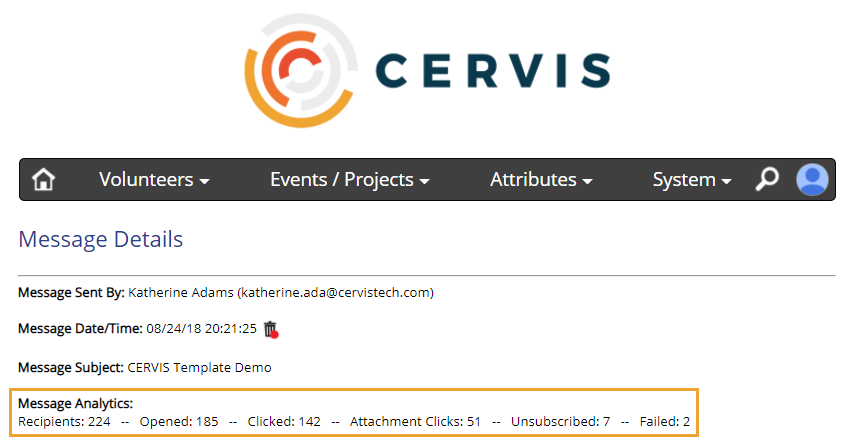 *The System Log retains records for 12 months so emails are not permanently stored here. You can also view emails in the profile summary of the volunteer(s) to whom the email was sent as these are stored permanently.