When you first login to CERVIS using the link provided in your new account email, you will see the Main Dashboard, which is the home screen from which you can navigate to all other areas of the system. Here's a look at the different options on this screen. (If you don't have the link to login contact our Customer Support team at support@cervistech.com.)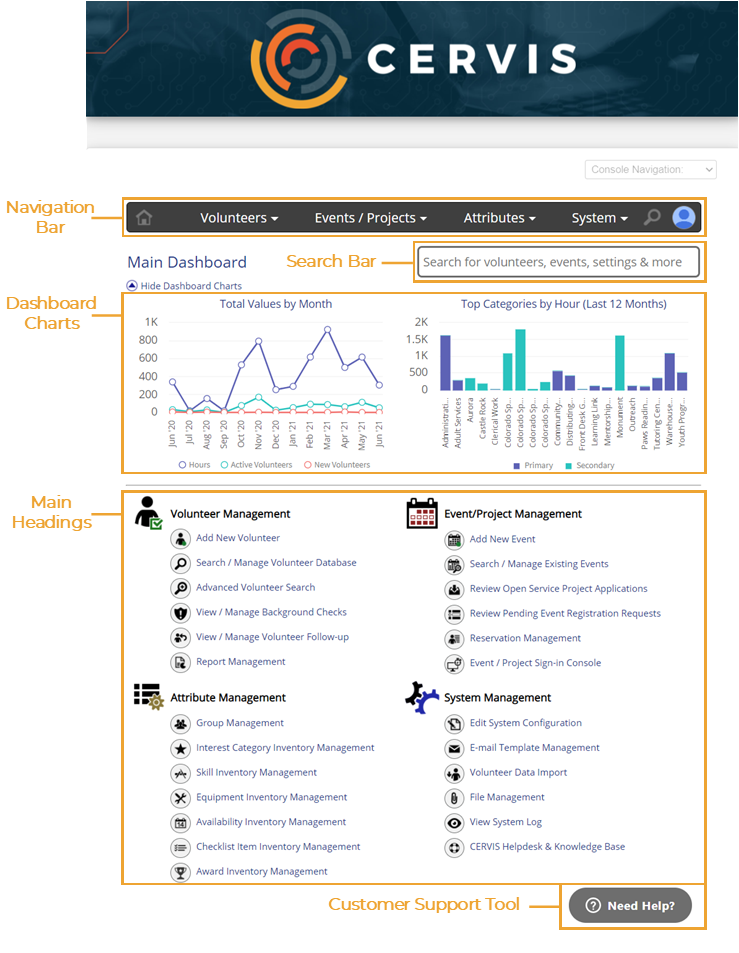 Navigation Bar & Profile Menu
The navigation bar is a replication of the main headings below and is visible on any page in the system. It allows you to navigate to any specific section of the system directly without going back to the Main Dashboard first. The profile icon on the right shows you information about your account, and allows you to log out.
Search Bar
The universal search bar allows you to search using a keyword through multiple sections in the system at once, from volunteers to system settings.
Dashboard Charts
The two interactive dashboard charts display a snapshot of your organization's volunteer activity over the last year. These are updated once daily, and designed to give you a quick look at your trends.
Main Headings
There are four main headings in CERVIS. The top two sections, Volunteer Management and Opportunity Management, are where you manage the daily functions of CERVIS. From here, you can add new volunteers and opportunities, search for and edit your volunteers and opportunities, send emails, run reports, and manage registrations.
The bottom two sections, Attribute Management and System Management, are the back end of the system. Using the options under these two headings, you can edit global settings, establish your volunteer application/data collection, and change the way the system looks. In the next Getting Started article we'll explore the System Configuration. You can jump ahead to that article HERE.
Customer Support Tool
This "Need Help" button will appear on every page in CERVIS so that you always have easy access to our Customer Support Team. By clicking on this button, you can search through our robust knowledge base of articles and reach out directly to our Customer Support Team for priority email or chat assistance.