SMS messaging, or texting, in CERVIS works by having CERVIS send SMS messages through your existing Twilio messaging account. If you don't already have an account with Twilio, then you will need to sign up for one through their website:
If you are a non-profit, you should look into their Impact Access program at https://www.twilio.org where they offer discounts and credits for those with confirmed eligibility.
There is a $300 one-time activation fee to activate SMS messaging on your CERVIS account. After this there are no additional fees to use the SMS functionality within CERVIS. However, there will be fees with Twilio for each message you send (for more information about messaging rates and pricing please refer to their website HERE). Essentially, you will pay CERVIS once to activate the feature and then you will have ongoing fees with Twilio based on your service agreement with them and the amount of messages you send. Please contact CERVIS Customer Support at support@cervistech.com to enable SMS on your account.
To complete the setup after you have created an account with Twilio and SMS has been enabled in your CERVIS account, you will need to enter your API information from Twilio into CERVIS. To do so, complete the fields under the "SMS Gateway" section of your System Configuration (see below for an example.) Please note: you must use this format when entering the SMS phone number you were assigned: +1234567890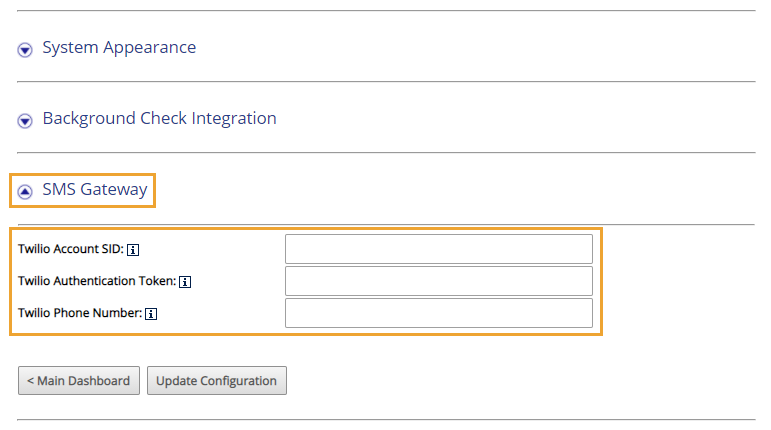 After completing these steps, SMS is now enabled in your account and you can manually send out SMS messages or configure your events to send SMS reminders. For instructions on how to send SMS messages, review the knowledge base article linked HERE.
For information about configuring SMS replies, please see the knowledge base article HERE.