SMS messaging, or texting, in CERVIS works by having CERVIS send SMS messages through your existing Twilio, CellTrust, Clickatell, ClubTexting, or mGive messaging account. If you don't already have an SMS Messaging account, then you will need to sign up for one with an authorized provider through their website:
Each different provider has slightly different features and pricing so it is up to you to decide which one would work best for your SMS messaging needs, but the functionality within CERVIS will be almost the same depending on the provider you choose. The only difference is that replies to your messages can be configured when using Twilio and Clickatell. Please see the knowledge base article HERE for more information on setting up SMS replies. If you don't already have a provider, we recommend Twilio as they seem to have the best mix of pricing and functionality, in our opinion.
There is a $300 one-time activation fee to activate SMS messaging on your CERVIS account. After this there are no additional fees to use the SMS functionality within CERVIS. However, there will be fees with your SMS messaging provider for each message you send. Essentially, you will pay CERVIS once to activate the feature and then you will have ongoing fees with your service provider based on your service agreement with them and the amount of messages you send. Please contact CERVIS Customer Support at support@cervistech.com to enable SMS on your account.
To complete the setup after you have created an account with an SMS provider and SMS has been enabled in your CERVIS account, you will need to enter your API information from your SMS provider into CERVIS. To do so, complete the fields under the "SMS Gateway" section of your System Configuration (see below for an example). Please note: you must use this format when entering the SMS phone number you were assigned: +1234567890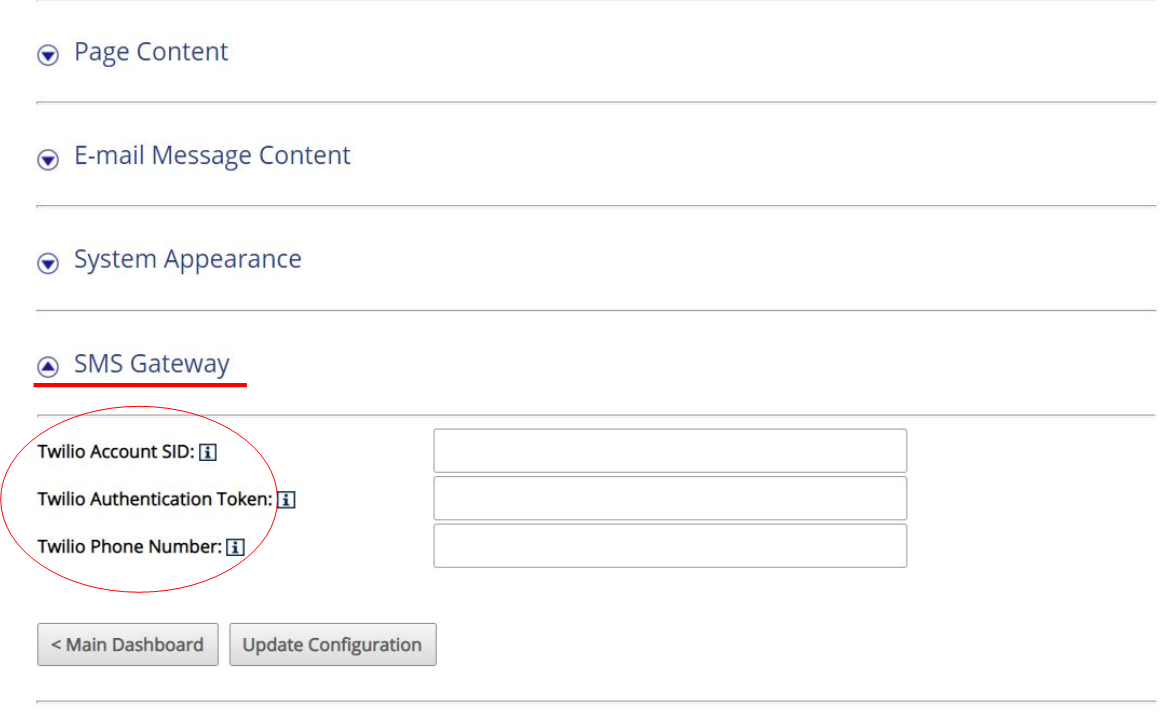 After completing these steps, SMS is now enabled in your account and you can manually send out SMS messages or configure your events to send SMS reminders. For instructions on how to send SMS messages, review the knowledge base article linked HERE.